Our designer Business Cards are among the best in the UK, yet price-wise they are among the cheapest! (but don't worry, the price is the only thing cheap about them).
Our cards look good and feel good too. Premium 400g silky smooth art board - 14% thicker than most print shops - vibrant UV-stable colours and pin-sharp high-definition print, add up to an effective and affordable way to promote your business. With prices starting from less than a penny per card many of our customers are using them as 'mini flyers'. They are popular with bulk users too, such as taxi firms and night clubs. We print your cards in full colour (on both sides if you want). Choose from hundreds of ready made designs or tell us what you have in mind and we'll design it for you. And the nice thing? Our business cards often work out cheaper than ordinary cards from other printers.
You never get a second chance to make a first impression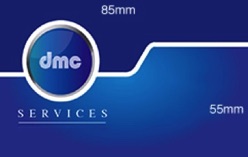 The dimensions of our cards are exactly the same as a credit card. That's no coincidence. Most wallets and purses incorporate card-sized pockets, making it easy for customers to retain your card for future reference.