| Service | Description | Price |
| --- | --- | --- |
| MINOR | e.g, Correct faded colour, improve brightness and contrast. Change colour or sepia to black and white | £18 |
| MODERATE | e.g. Correct faded colour, improve brightness and contrast. Change colour or sepia to black and white. Remove red-eye, minor marks, creases and small tears. Remove small items from background | £29 |
| MAJOR | Correct faded colour, improve brightness and contrast. Change colour or sepia to black and white. Remove red-eye. Remove multiple marks, creases and tears. Remove small items or people. Restore multiple torn parts | £35 |
| MISSION IMPOSSIBLE | Repair of badly damaged photographs - e.g. areas missing, multiple torn parts, damage to faces, water damage, multiple stains. Correct faded colour, remove red-eye, improve brightness and contrast. Remove Sellotape, pen/pencil marks. Remove multiple marks, scratches, creases and tears. Remove unwanted objects or people | £45 |
| COLOURIZE | (transform Black & White photos into Colour) | From £35 |
HOW DO I GET MY PHOTOS TO YOU?
We accept prints, 35mm slides and good quality scans and files from Digital Cameras and Smartphones (send via email, WhatsApp, DropBox, CD, DVD, USB Flash drive, portable hard drive and all types of memory card).
There are several ways you can get your pictures to us:
(1) BY HAND: Drop your pictures off at our Buxton office (by appointment)
(2) BY POST: Pack securely and use a "Signed For" service.
Address your package to:
keithjones.net
Trinity Parsonage,
Hardwick Square East
Buxton
Derbyshire SK17 6PT
(3) EMAIL: If you are sending files under 10 Mb simply attach them to an email and send to kj@keithjones.net. Anything larger can be sent using one of the following services (they usually have a free version)
Dropbox (send us a link)
The Photo Restoration service
trusted by the trade
Have your treasured photographs or documents suffered the ravages of time? Are they torn, faded, creased, discoloured or damaged? Don't worry. help is at hand. We can restore your photos to their former glory.
Repair creases, tears and cracks
Remove mould, 'foxing', dirt and stains
Remove dust marks and scratches
Piece together ripped or torn photos
Recreate missing areas or corners
Remove or blur distracting backgrounds
Replace entire backgrounds
Remove Sellotape marks
Improve contrast
Eradicate pen and pencil marks
Remove/add people or objects
Improve composition
Straighten wonky horizons
Restore faded colour
Remove colour casts
Enlarge favourite photos
We also transform Sepia and Colour photos to Black & White and we are one of the few restoration services in the UK who transform Black and White photos into colour (hand tinting meets the 21st century!)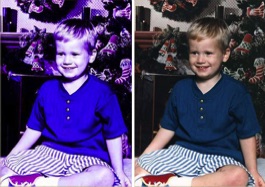 We have been restoring and re-touching photographs and documents for our trade partners since 1996. We are pleased now to offer the same level of expertise to the public. We can restore virtually any image - no matter how badly damaged or faded.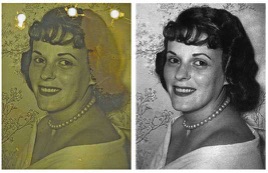 | Print Size | Price | Print Size | Price |
| --- | --- | --- | --- |
| 6 x 4 in. | £1.32 | 10 x 8 in. | £4.72 |
| 7 x 5 in. | £1.58 | 12 x 5 in. | £5.15 |
| 5 x 5 in. | £1.84 | A4 | £5.15 |
| 8 x 6 in. | £3.68 | 12 x 8 in. | £5.46 |
| 8 x 8 in. | £4.41 | 12 x 10 in. | £7.25 |
| 9 x 6 in. | £4.41 | 15 x 10 in | £7.25 |
| 10 x 7 in. | £4.73 | Larger sizes available up to A1 | |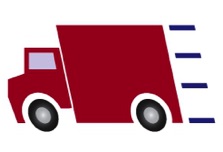 SECURE COLLECTION SERVICE
If you live in a Derbyshire town or village listed below, we offer a secure collection or delivery service £10.95 (Free with orders over £60)
Call 07813 449521 to arrange a collection)
Abney, Alport, Ashford-in-the-Water, Aston, Bakewell, Bamford, Barber Booth, Baslow, Beeley, Blackwell, Bradwell, Bretton, Brierlow bar, Brough, Brund, Brushfield, Burbage, Buxton, Buxworth, Calver, Castleton, Chapel-en-le-Frith, Charlesworth, Chatsworth, Chinley, Coplow Dale, Cowdale, Cressbrook, Crowdecote, Curbar, Dale End, Disley, Dunsal, Earl Sterndale, Edale, Edensor, Elton, Eyam, Fairfield, Fawfieldhead, Flagg, Froggatt, Furness Vale, Gamesley, Glossop, Great Hucklow, Great Longstone, Grindleford, Harpur Hill, Hadfield, Hargatewall, Hassop, Hathersage, Hayfield, High Peak, Hollingworth, Hollinsclough, Hope, Horwich End, Hulme End, Kettleshulme, King Sterndale, Leam, Little Hucklow, Little Longstone, Litton, Longnor, Marple, Matlock, Middleton, Miller's Dale, Monyash, New Mills, Newtown, Over Haddon, Peak Dale, Peak forest, Pilsbury, Pilsley, Priestcliffe Ditch, Rowsley, Sheen, Sheldon, Showfield, Sparrowpit, Staden, Stanton in Peak, Stony Middleton, Taddington, Tansley, Thornhill, Tideswell, Two Dales, Wardlow, Wessington, Whaley Bridge, Wheston, Wormhill, Youlgreave
WHAT WILL IT COST?
Naturally the cost will depend on the degree of restoration required. The table below will give you an idea of what to expect (We will let you know the exact cost once we have seen your photos). Appraisal is free and entirely without obligation so there are never any unpleasant surprises. If you decide not to go ahead - for whatever reason - we will return your pictures at our expense. Once we receive your pictures we will advise you of the cost. If you are happy with the price we will send an invoice which can be paid securely online. (UK clients can also pay by cheque, cash or bank transfer). If you decide not to proceed at this stage we will return your photos.
PRINTS
REAL photographic prints (not inkjet) on archive quality photographic paper
HOW IT WORKS
Old photographs and documents are usually very precious to their owners - often there is only one copy in existence. That's why the very first step in our process is to make a high resolution digital master from the original. The original is then placed for safe keeping in a pH neutral protective wallet.
Once restored, your original photographs are returned along with a CD, DVD or other digital medium, containing the restored high resolution digital images.
We can make prints and enlargements from your restored photos - up to poster size. (see below for prices).
For customers who prefer to scan their own photographs:
If you have access to a decent scanner you can join the growing number of clients worldwide who have discovered our no-frills 'Pro' photo restoration service. This Digital-Only service (no prints or CD/DVD) is perfect for Resellers, Photographers, Restoration services, Photographic retailers, Picture Framers etc. You simply download the restored files from a folder we create for you online.
NOTE: both services result in the same high standard professional restoration
You will be amazed at what is possible…