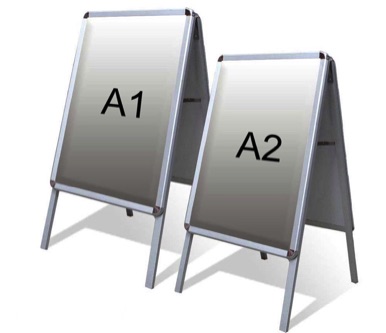 A1 Board £79
A2 Board £69
2 Posters (paper) £28
2 Posters (waterproof) £38
Artwork (per design £19
UK Shipping £7
TO PLACE AN ORDER: call Keith on 07813 449521 or send an email stating the size board you want (A1 or A2) and whether or not you require posters and/or artwork. If providing a sketch or your own artwork, attach it to the email. If your artwork file is larger than 10MB request our DropBox address or send it to kj@keithjones.net via a file transfer service such as mailbigfile or sendthisfile
PAVEMENT SIGNS · A-BOARDS · A-FRAMES
Featuring the clever SnapFrame system for quick-change graphics our A-Boards are constructed from weatherproof aluminium and can be viewed from both sides so you can display the same or a different message on each side.
Available in A1 & A2 sizes, with or without posters.
Frames open by hand and snap firmly closed under spring tension.
Metal back boards (far superior to Polypropylene or MDF)
Anodised aluminium frames will not rust
Price includes Graphics covers (Transparent Anti-glare)
Safety features: chromed rounded corners, two locking hinges for stability, anti-slip feet.
DIMENSIONS (mm)
A1 A-Board
Width: 655mm, height: 1200mm
Visual area: 578mm x 824mm
A2 A-Board
Width: 480mm, height: 810mm
Visual area: 405mm x 579mm
A-Board Double Sided Aluminium Pavement Sign,
SnapFrame Poster Display Stand
A-Boards or A-Frame pavement signs make your message hard-to-miss. Great for Pubs, Restaurants and all kinds of shops - especially Cafés, Coffee shops, Repair shops, Jewellers and Service stations. Reach out to customers and let them know what's inside. Great too for Plumbers, Electricians, Decorators and Builders (promote your business outside the property where you're working!)