We transfer your Videos
to DVD or other Digital Media
Enjoy watching family video you haven't seen in years!
LIFESPAN OF VIDEO TAPE
You've probably heard that video tapes deteriorate a little each time they are played, but did you know that they deteriorate even if they remain unplayed? Hollywood movies can be easily replaced or streamed online, but when it comes to our own family video recordings, it's a different story. Home videos are irreplaceable. Imagine how you'd feel if your treasured video memories degraded to the point where they were unwatchable? Download our free guide How to Care for Your Video Tapes
WHAT CAN BE DONE?
The good news: we can bring your family videos into the 21st century and put a stop to the deterioration. We digitise your home videos and transfer them to DVD or other digital media - such as Memory Stick (USB Flash Drive) or portable hard drive - preserving those precious moments forever (your video will now be digital so when the successor to DVD or Memory Stick comes along they'll transfer easily and without further loss of quality. Meanwhile you'll have the convenience of viewing them on your TV, navigating and pausing with your remote control. Our DVDs are guaranteed Industry Standard, which means they will play on all modern DVD players, and are fully compatible with Windows and Apple DVD drives. Furthermore, we don't encumber our DVDs with copy-protection so,with the right software, you'll be able to edit your videos and share them on YouTube and Social Media and other devices - Smartphones, Tablets etc.
THE NEXT STEP
Simply post your videos to the address below – or deliver them in person if you prefer. No need to send payment — we send our invoice only when your videos have been successfully digitised.
Don't leave it until it's too late, get your videos to us as soon as possible. In a little while you'll be enjoying golden family moments you haven't seen for years, secure in the knowledge that they are saved for posterity.
WHAT WILL IT COST?
| How many tapes? | £ |
| --- | --- |
| 1 Tape | £15 |
| 2 - 5 Tapes | £14 ea. |
| 6 - 10 Tapes | £12 ea. |
| 11 -15 Tapes | £10 ea. |
| 16 -25 Tapes | £9 ea. |
NON-TAPE MEDIA
DVD
DVD-R
DVD+R
CAMCORDER DVD
SMARTPHONE VIDEO
TAPE MEDIA
VHS
VHS-C
S-VHS
8mm / Video8
Hi8 / Digital 8
Mini-DV
| Extras | £ |
| --- | --- |
| Backup copy of DVD in paper sleeve | £7 ea. |
| Additional copy of DVD in full size case with printed insert | £8 ea. |
| De-Luxe 'pro' translucent DVD case. Printed insert with your title - e.g. "The Smith Family - Disneyland '96" | £4 extra |
| DAMAGE: Recordings from damaged cassettes and mouldy or snapped tapes, can nearly always be retrieved. Note: this may involve sending your tape by Courier or Recorded Delivery to our repair lab. We cannot be held responsible for tapes lost in transit. | £27 Includes cost of transfer to DVD |
| WEDDINGS. Wedding days are among the most memorable days of our lives - and they're usually attended by lots of relatives. If you are fortunate enough to have a wedding recorded on video, make sure you preserve it for future. generations. Price includes: Conversion to Digital format, a white DVD, a transluscent white case - custom printed with the names of Bride & Groom, the Church/Register Office and the wedding date. A perfect anniversary gift! | £19 |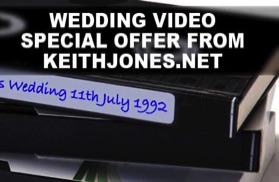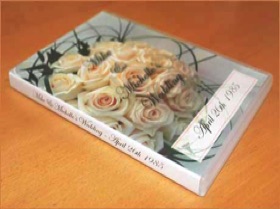 TO ORDER: Print an Order Form. Drop off with your videos at our office (appointment advisable) or pack them securely and send to:
Keith Jones
Trinity Parsonage
Hardwick Square East
Buxton
Derbyshire SK17 6PT
(download a map showing our location)
When we have completed your order we'll send an invoice which can be paid by credit or debit card, bank transfer or by cheque or cash on collection. If you are unable to collect your order it can be sent via a 'Signed For' service. (Compensation subject to carrier's terms of service)
RETURN CARRIAGE AT COST